The scene is a blank space: for the artist of the body is a blank page to fill with ideas, rhythmic possibilities, spatial, social and political tensions. For the viewer, with the aim of analysis and narration, the blank page is the place where to find the words through which to return the encounter with bodies and ideas. Durante Fuori Programma 2023 Teatro e Critica cura un workshop dedicato alla visione, alla discussione e alla scrittura critica che si muoverà su due direttive: racconto del festival e pedagogia.
The workshop is dedicated to those passionate about performing arts and cultural journalism and is open to a maximum of 12 participants; it will take place from 20th June to 7th July 2023 in 9 meetings.
The articles from the workshop will be published on the website dedicated to training courses teatroecriticalab.wordpress.com
Toparticipate,send a cover letter and curriculum by June 12, 2023.

The editorial staff of Teatro e Critica e Fuori Programma, if a number of requests exceeding the pre-established ones arrive, will select the participants through the material sent.
Meeting calendar
20th June at 10.30 21, 22, 23, 25, 26 June at 16.30 3-6-7 July at 16.30 
For Info:
fuoriprogramma.prenotazioni@gmail.com 
9 meetings from 20 June to 7 July Teatro India and...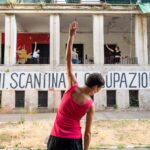 30 June, 4 and 7 July Parco Tor Tre Teste